After being interested in FPV and areal video. I wanted to use my GoPro Hero 3 Black Edition as a video camera for FPV. I read about a special cable I had to buy, but on one hand it was pretty expensive and on the other hand it looked very bulky and heavy.
So I found and article of David Windestal, in which he describes how to build your own lightweight video out cable: rcexplorer.se/diy/2012/11/diy-gopro3-video-out-cable/
Thank you very much David!
All you need is a special proprietary 10 pin mini USB connector. Here is the plan how to connect the pins: (At your own risk of course!)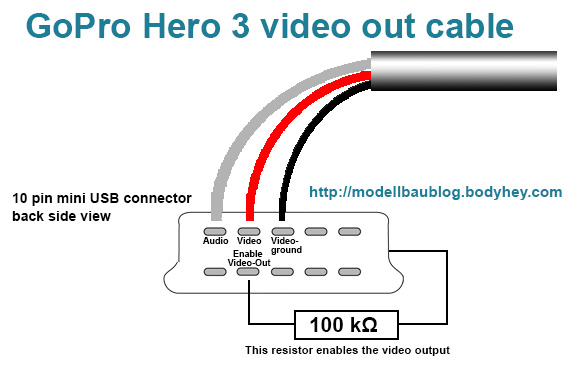 Having that read I ordered those proprietary 10 pin mini USB connectors from China.
And finally built it my own! 😉
Here are some pictures and a video below:
And here is the first video: